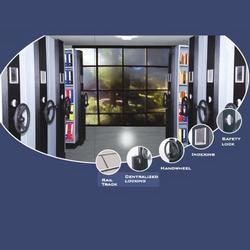 Product Description
Mechanical Mobile Storage System Features:
Available In both manual & mechanical system.
Rails are made of 28mm dia MS round bar.
Heavy duty grade 1 Iron casted wheels with anti-rust zinc/nickle coating.
Drive system designed for mechanical advantage.

Our mechanical wheel type mobile storage unit is designed by using different gear to move the cabinet by gently turning the hand wheel.
The design is to minimize power to move a huge object smoothly and quieter.
User friendly PU steering wheel handle.
Anti-tilting mechanism provided for safety on single faced mobile unit.
Special Index pocket provided on each day to know the contents of each rack.
Provision of manual locking of Individual units when in use, ensures safety.

Mechanical Mobile Storage System Usage:
1. Offices
2. Institutions
3. Hospitals
4. Libraries
5. Laboratories
6. Warehouses.